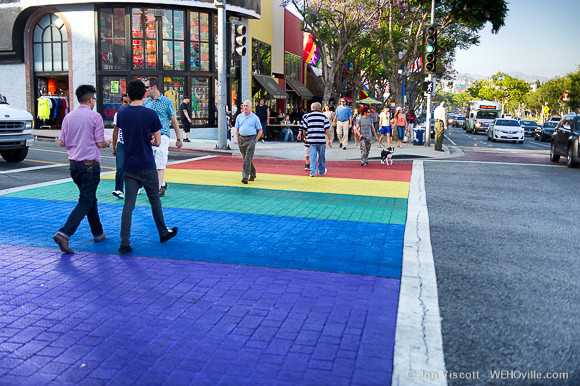 Rainbow crosswalks provide a unique gateway to LGBT activities in West Hollywood. As far as I know WeHo had the first rainbow crosswalks in the USA.
In September 2012, West Hollywood welcomed its first gay pride crosswalks at the intersection of Santa Monica and San Vicente boulevards. Painted in bright rainbow colors, the walkways became a symbol of the city's pride in the neighborhood's gay, bisexual and transgender residents. It also doubled as the entrance for the annual PRIDE festival.
Although they were installed temporarily in June of the same year in celebration of the LGBT festival, the West Hollywood City Council voted to make the art permanent on August 20, 2012. Initial predictions put the price tag at nearly $70,000 for the entire installation. The original crosswalks cost $13,000. City officials expressed a desire to have the colorful hues finished no later than the AIDS walk on October 14.
Using thermoplastic markings for the crosswalks, they were intentionally easy to clean and more resistant to fading than traditional paint. They were custom made to match the six colors of the gay-pride rainbow flag.